Design Partners
The Making of Ontologia.
A look behind the curtain at Prospect Refuge Studio x Hennepin Made's interactive new collection.
Our latest collection, Ontologia, exemplifies Midwest craft and creativity.
As the first collaboration for Victoria Sass, founder of Prospect Refuge Studio, the collection started with a discourse between Sass and Hennepin Made's Jackson Schwartz. Musing on the inherent sensibilities of Midwest makers, Sass elaborates: "We change slowly and creative work is often more of an evolution rather than a rapid paradigm shift, allowing old and new ideas to cohabitate... It's a very zen sort of place—the Midwest."
The roots of Ontologia began with a playful exchange of ideas, ultimately asking how we relate to objects and objects relate to us. So it's only fitting that it takes its name from a philosophy that explores existence.

"We playfully explored what it means for something to 'exist', the 'personhood' of objects, and philosophical ideas like Object-Oriented-Ontology or the idea that objects have agency and are independent of human consciousness."
Just as the initial ideas were incubated with the Midwest, so were all of the physical details of the lights themselves. The regionality of Ontologia is evident on both ends of the spectrum, from lofty idea exchanges to the brass tacks of manufacturing the lights themselves.

"The process is very controlled in the beginning to get the general size of the form. From there we let the natural process using heat and gravity to drape the glass over a metal sphere that is the same size as the wood on the light. Each piece is very unique in how it responds giving every light true personality."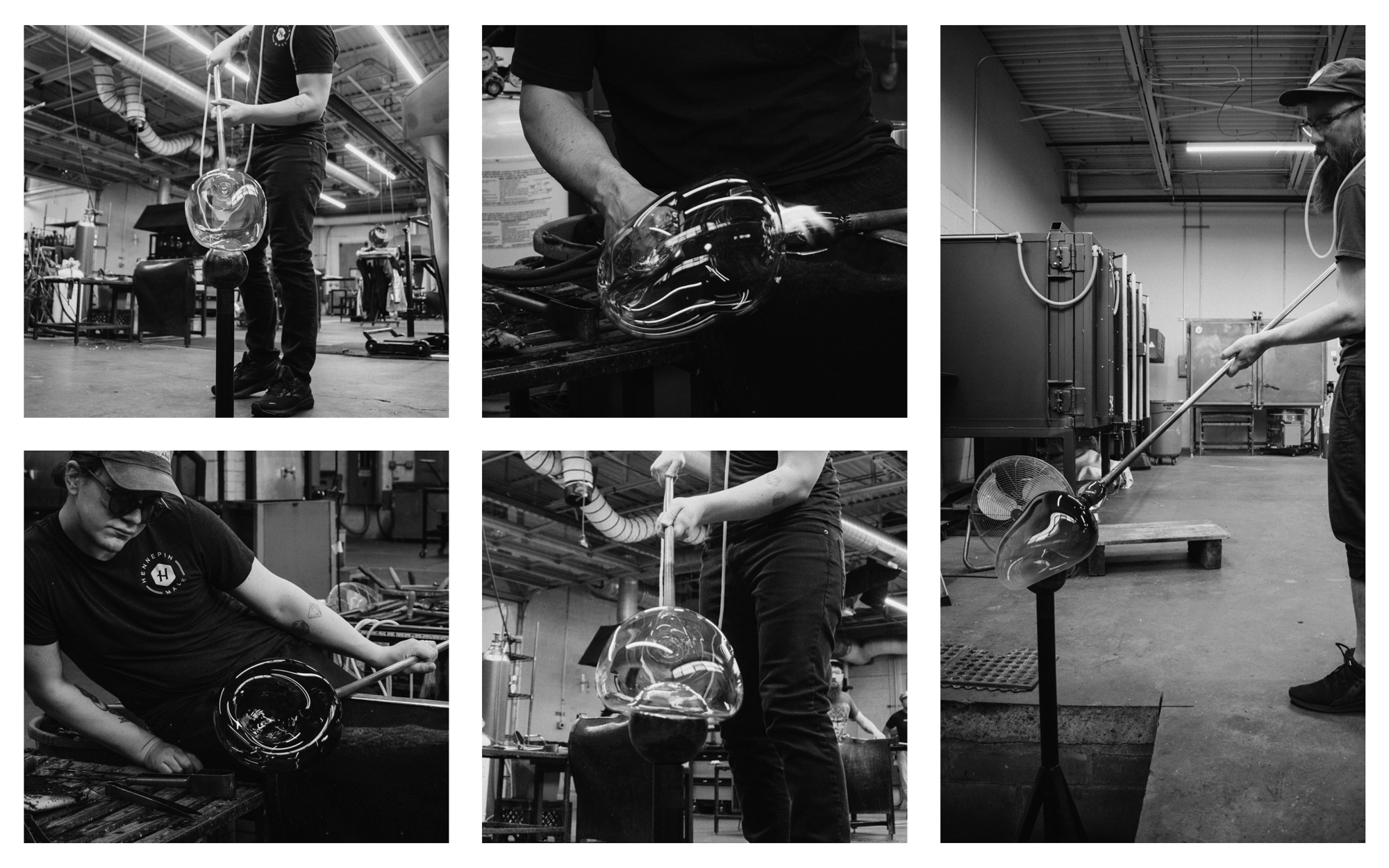 By keeping everything local (within the four walls of Hennepin Made, to be exact), every detail of fabrication was able to be examined. "I knew their capabilities for creative work were almost limitless. They fabricate nearly every component of their fixtures in house, from metal and woodwork, to electrical configurations, the glass (of course) down to the packing and shipping." says Sass.
To suit the collection's invitation to play and ponder, new magnetic technology was also developed to create more of a dialogue between person and object. By using magnetics for assembly, one can arrange and rearrange with ease, play with cording, composition, angles and shadow. The magnetic technology allows for the object to be secure and sturdy yet interactive and malleable.

"The finishes are living and will develop evidence-of-hand over time and touch, but also their very nature encourages you to twist them, turn them, remove them and replace them, arrange the cords—play."
Incorporating more local talent, the collection was also photographed at the Swedish institute, using a piece by local artist and friend Joshua McGarvey— a styrofoam recreation of the classical greek sculpture Doryphoros, fresh out of the artist's POSTURING exhibit at the Minneapolis Institute of Art.